Cyberweekly #186 - Managing people is our job
Published on Sunday, February 27, 2022
I'm going to start this week by explaining why I'm not talking about the situation unfolding in Ukraine.
Everybody on the internet has shifted from an expert in microbiology into an expert on foreign policy in the last few days, and quite frankly, you don't need yet another amateur analyst giving his opinion on the Ukraine conflict. If you are after updates, you can visit one of the many other sites for this, such as the Institute for the study of war, Foreign Policy magazine, or capable threat intelligence companies like Recorded Future or vetted open source investigators like Bellingcat.
Just remember that in the rush to appear relevant, to drive interest in their stories, falsehoods, mistakes and assumptions can travel far faster than vetted facts can. If your organisation is in crisis mode attempting to respond to the slew of new reports and threat intel via twitter, then as Jake Williams says: "causing a self-inflicted outage responding to FUD is a bigger risk than a Russian government cyberattack"
So, what am I going to talk about this week?
In both digital, technology and security, career development through the ranks tends to come through the increased capability within a specific technical skill set. A really good analyst can be promoted to senior analyst by their ability to read, analyse and write reports. A great software engineer will become senior and even principle simply through their ability to write good code.
But when it comes to leading teams, to running projects, often the skills needed to be successful at that job are massively under-invested in until you take a senior management role. Suddenly you are being asked about spending hundreds of thousands of pounds, of investing months or years of effort, and to make decisions based on incomplete information.
This is hugely detrimental to our organisations because it means that people who get to practice the skill and art of "delivering through others", project managers, policy advisors and so on end up in all of the senior positions and we end up with some highly technical organisations and teams being led by people who do not understand the domain. Without senior leaders with an individual contributor background in the room, decisions can be made that are obviously wrong to anyone with enough technical background to tell them apart.
Of course, part of the problem is that computers are sufficiently advanced that it's really hard for non-technical people to tell the difference between the easy and the impossible. This XKCD makes that point, but interestingly, the problem given is far less of a problem today than it was when it was written!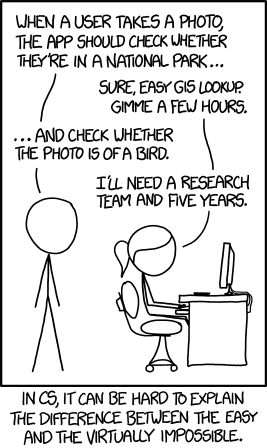 https://xkcd.com/1425/
Anyway, one of the key things that we need to do is recognise that when someone moves from individual contributor to engineering manager, CTO or cyber director, that their delivery is now focused on delivering a team that can do stuff. Sure, they care about the output of the team, and might want to set the strategy, and make product decisions, but in reality, they have to let go of a lot of that stuff, and recognise that managing the people, the budget and creating the environment for their team to be successful is now their job.
This can be extremely uncomfortable for the unprepared. We need to mentor young technologists more to make them aware of this, and we need to ensure that people go into the role prepared, eyes open, and with good mentorship to help them adjust and be successful at the role.
Of course, to bring this back full circle, this also means learning how to manage people through a crisis. That means being the stabilising force, empathising with the team, acknowledging the impact it has on them and taking action that provides stability and reassurance for them.
Our goal in all of this is to manage our people and look after them. If you do that, the products will look after themselves.